Will This Family Use CRAFT When Their Son Gets Out of Detox?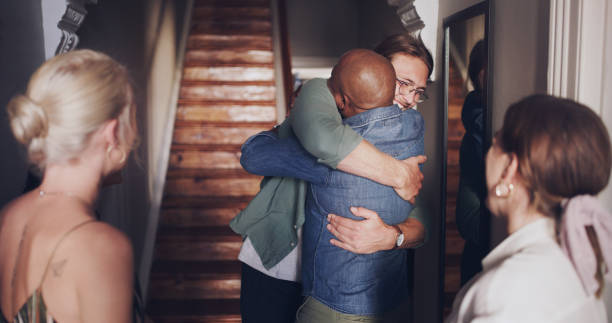 An Allies in Recovery member wrote in to our "Pose a Question" blog seeking guidance for handling her loved one's upcoming release from detox. She'd like to help his parents implement CRAFT, but they aren't in agreement about the approach. Can they come up with a neutral plan that everyone agrees on?
Dear Allies in Recovery, I appreciate this website and have listened to the modules several times, and I just listened to your podcast "Heads up tips for families with a loved one on the recovery path". My addicted loved one is my nephew. I shared the alliesinrecovery.net website with my sister and her husband, but we are "newbies" to Allies in Recovery.
I am one of my sister's supports and she is at a crossroads. Her 30-year-old son is in a detox facility as of three days ago. (I think your training modules helped, waiting for the dip/wish to make happen.) He has been in/out of treatment since he was 17. We hope he will choose inpatient rehab but found out today he wants to come home, go on MAT, and go back to work. Work seems to be his one thing he uses as a reason to not do inpatient rehab. He has good insurance thru his estranged wife.
Of course, we are scared his plan isn't going to work. My sister has "hijack brain" and wants to make this time work. She isn't taking time to care for herself. We need help with a plan for him to stay at her house that is safe, fair for her, her husband and her son. She and her husband differ in their opinion of boundaries. I think a plan that is unbiased…a happy medium maybe. Help!
Welcome to the community. We're so glad you've found us and that you're working with our e-Learning CRAFT Modules, listening to our podcasts, and finding these resources helpful.
The short answer, and the shortest way through, is for your sister and her husband to watch our site's e-Learning CRAFT Modules and to answer the questions together. Once they are more clear and more unified in their approach towards their son, then they could invite him home. Some boundaries would certainly need to be established between the three of them.
This would be accomplished by using the essential skills laid out in e-Learning CRAFT Module 4. These include communication techniques and strategies for making a request that will help the family approach this conversation in a new, productive way.
Stop the negative talk, recognize and use "change talk," practice "reflective listening," and learn the 7 techniques of effective communication
Some of the important approaches and techniques we discuss in our training module on communication include: stopping the negative talk; learning how to recognize and to use "change talk;" and 7 techniques of effective communication including:
Show compassion
Admit your part
Be specific
Be brief
Be positive
Use "I" statements instead of "You" statements
Offer to help
We go over these techniques in detail with examples in our training module. In particular, reflective listening is one of the most important things you can practice, and we address it in the module as well as in other blog posts.
Making a request for change, and making specific plans together about recovery
In our training modules on alliesinrecovery.net, we also go over how to make a request when it comes to treatment and negotiating a plan for being at home. Below are some of the many components that could be discussed.
For the son:
Medication Assisted Treatment (MAT) – accountability through regular attendance. Your nephew is at risk of overdose.
Other treatment: Early recovery group? Psychiatry? A therapist?
Regular work. (Is work a healthy enough environment? Is it complicated by a strong drug/alcohol culture?)
No drug use, including cannabis or cigarettes, in the house. (Amend as needed.)
Recovery activities. (Aim for 3 a week. Be creative – go online, look for recovery centers. See our online support group resource for a broad variety of options.)
All kinds of self-help meetings – daily.
Chore list. (The reality is that we are now in a group living situation where each adult must contribute.)
Actions the family can take to be prepared and for ongoing support:
Attend Allies in Recovery's CRAFT Educational & Skills classes when you can, and also our weekly CRAFT Support Group.
Continue to rely on the Allies in Recovery program for issues that come up. Our members have access to a list of online resources that also contain other support options for family members.
Training in Narcan and a supply of Narcan readily available in the house.
Family therapy – even just a few times can help establish the boundaries and bring awareness to old patterns that are no longer useful. This helps give a broader context and more support for any changes they're trying to implement.
Chore list. (See above.)
Also, we are fond of the "day bed and locker" transitional home plan. We've written about this set-up in other blog posts (both public and private) that may be helpful to read through. Here is one: https://alliesinrecovery.net/shes-back-home-with-a-daybed-and-locker/
Position the family as an ally
The goal is to cultivate and establish a respectful, compassionate communication style. This can lay the groundwork for sufficient flexibility in this plan and an openness in your exchanges. This way, a problem can pop up and be resolved with little anger or conflict escalation. Working in collaboration is always the goal. The family members position themselves as allies in their loved one's recovery.
What all of this means is that your nephew could really use a place for a couple weeks to bridge the discharge from the detoxification unit to your sister's house. Look for 2-week treatment programs. In Massachusetts, Clinical Stabilization Services (CSS) serve this purpose.
Your sister and her husband need to be united, informed, and skilled in communicating, reacting, and responding to your nephew. This takes practice, time, and patience. It takes patience not only with the loved one, but with oneself. Shifting old communication patterns is hard work. They definitely need time to deep-dive into the Allies in Recovery program.
Their son's disorder is serious and long-standing. So, now it's time for CRAFT boot camp. There are going to be challenging moments. Even if their son does everything perfectly, they are not going to trust him very much. Not for a long time. This is part of their own work to undertake, hopefully with plenty of support.
CRAFT takes practice. See the situation with new eyes, and stay with it.
With our approach, the focus is always on what the loved one is presenting in the moment, so holding on to past grievances ends up clouding one's ability to truly practice CRAFT.
If this reaches you after his discharge, and your nephew has already moved back in with mom and dad, the plan remains largely the same. In this case, his parents just won't have the time to work through their differences and discuss new strategies much beforehand. The timing will be such that they'll have to learn and emerge with strategies as they go.
If they can agree to work with CRAFT, they'll have a chance of shifting the environment for your nephew at home. They'll be able to find a path to that middle ground you suggest: one which feels manageable for all involved and which allows your sister to take some time to restore her energies and focus on her own well-being. But this doesn't happen overnight.
Hopefully with some patience and a willingness to look at the situation with new eyes, they'll be able to embrace the basic rhythms of the CRAFT approach and help steadily shepherd your nephew towards recovery.
Thank you for being there for your nephew, and for your sister. It sounds like the whole family is lucky to have you on the sidelines, suggesting a new approach and shining that light on the path to safer, more solid ground. You've already seen some recent success in seizing on a "dip" and getting him back into treatment. Good for you for taking the lead, and for being willing to educate your family about CRAFT. All our best for helping your sister & her husband implement these changes in the coming weeks.
We are here for you all and we're rooting for you – please let us know how it goes.
*          *          *
With a membership to Allies in Recovery, you will have access to this article – and hundreds of others – in full. Allies in Recovery members have access to all our blog posts including the ability to search a variety of topics such as those mentioned in this blog post, and many others. (e.g. Communication, Day Bed and Locker, Module 4, Medication-Assisted Treatment, Narcan, etc.,)
If you're an Allies member, check out the member site for our "10-day Challenge" to claim your reward of a Complimentary One-Day CRAFT Workshop – just for finishing half the modules!
If you're not yet a member of Allies in Recovery but want to join us TODAY to get trained on how to reduce the chaos of addiction in your family and in your life, click here.
A membership at AlliesinRecovery.net brings you into contact with experts in CRAFT – the proven, most successful method for getting your loved one into recovery. Our unique, award-winning learning platform teaches you CRAFT, so you can play an important role your loved one's recovery journey.
With Allies, you'll get information critical to understanding your loved one's alcohol/drug addiction; you'll learn the strategies and skills you need to engage your loved one onto the path to recovery; and you'll get guidance on how to identify and cope with the flood of emotions you are feeling – because when you are coping better, you can better help your loved one.