Boundaries and Rewards: Tips on Using CRAFT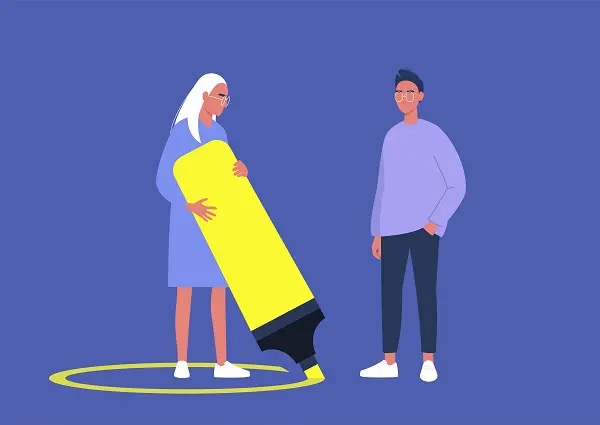 An Allies in Recovery member is encountering difficulties with removing rewards and holding boundaries. They're asking their loved one to leave when he's drinking, but he simply refuses! In this post, we offer a little refresher on rewards – when to use them, and what kinds – as part of the Community Reinforcement and Family Training (CRAFT) approach that we teach you on Alliesinrecovery.net.
This question originally appeared on the alliesinrecovery.net member blog:
"What do you do when you are asking him to leave when he has been drinking – and he refuses to leave? We just sweep it under the rug and walk away from him!"
Glad you wrote in with this seemingly basic question! I feel as though you're really on the right track here. With a few tweaks, I think we can get you even more clear and effective.
When removing rewards is mixed up with boundaries
From my point of view, your question touches both on the specifics of "removing rewards" à la CRAFT, and on boundaries – how to stick to a boundary you've laid down.
Reading your comment, I'm thinking, let's figure out how to avoid this situation becoming habitual. You are trying to enforce a boundary and your loved one is ignoring you. This is not great for anyone if it keeps happening: your loved one will have less and less respect for your boundaries if you're unable to really follow through with them, and you will end up feeling helpless, standing behind a boundary that's not being respected.
Rewards — a review
Before we dig more into boundaries, allow me a moment to highlight the major points to keep in mind when considering how you use rewards.
* Remember, rewards are given in moments of non-use as opposed to use, defined as: 1) about to use (too late to turn them around), 2) using/high, or 3) withdrawing from use/hungover. *
We're talking here about immediate rewards, given in the moment. In the example you've given, there are two rewards involved:
1)  Being able to stay under your roof (I suspect your love one does not see this as a desirable, which is an important quality for a reward to have. It has to be something they perceive as being pleasant. I wonder if your love one sees this as being your obligation to them and/or they have nowhere to go, so in their mind they actually can't comply with the demand of leaving. This is also long-term, not immediate, thus more complicated to give or take away), and
2)  Your presence/company We could even consider that in the way things played out, there's another reward, which is the "sweeping it under the rug" — in a sense, that's your loved one earning another "point".
Let's review the characteristics of an appropriate reward: 
(For a full refresher of what an appropriate reward would be for your situation, an Allies in Recovery Membership offers access to eLearning Modules specific to these topics such as Segment 4 of Module 5: "My Loved One Isn't Using Right Now, Now What?" entitled "Characteristics and Types of Rewards")
the reward should be pleasing to your loved one (not necessarily what would make you happy);
the reward should be easy to give (within your budget, accessible, and especially, not something that's disagreeable for you – don't force yourself);
the reward should also be easy to take away (a pay-as-you-go phone perhaps);
try to give the reward immediately when you see the behavior you want to reinforce — timing is key;
ideally, choose a reward that meets the same need filled by their substance use.
removing rewards is not a punishment.
There are 4 kinds of rewards:
Stuff (e.g., something you picked out for them that you saved for the right moment)
A positive, encouraging comment (e.g., "I really appreciate your help with the dishes")
Non-verbal behaviors (e.g., eye-contact, a scrunch on the shoulder, other body language that says "I'm paying attention to you")
Activities (e.g., a walk together, a game, cooking a meal together, a meal out, massaging each other, etc.)
Removing rewards — a key CRAFT component
An Allies in Recovery Membership includes access to what we call "Key Observations" exercises which allow you to work through your personal circumstances.. For example, Key Observation Exercise #16: "What Is Rewarding to My Loved One?" gives you an opportunity to choose rewards that might work on your loved one and to add others as you come up with them.
Here are the 3 things CRAFT asks you to do if you see (or strongly suspect) that your loved one has been using:
1)  Remove rewards (some of the time this can be done subtly, without speaking, but other times it may require a short, neutral explanation, i.e.: "You're welcome to use the car when you're not using, but until then I'm holding onto the keys.")
2)  Step away, disengage (Your presence is known, and predictable – and therefore, comforting – to your loved one. Even if you're mad or lecturing! You are a reward to them.)
3)  Allow natural consequences to occur (the best way to know what the natural consequence to their use would be is to ask yourself: "If I didn't step in here, how would the larger environment treat my loved one right now?" Our member site offers a video with Allies in Recovery Founder and CRAFT Expert, Dominique Simon-Levine, on the topic of natural consequences, as well as many posts on this topic and more in our member blog.
There is also a Part 2 of this series, "A Cheat Sheet on Boundaries" which takes a deeper dive into setting boundaries with your Loved One. This series can be fully accessed with a membership on our Allies in Recovery member blog site, alliesinrecovery.net.
We're glad you wrote in, and we hope things are getting better as you use CRAFT in your situation.
We're here to help.
If you're an Allies member, check out the member site for our "10-day Challenge" to claim your reward of a FREE One-Day CRAFT Workshop – just for finishing half the modules.
If you're not yet a member of Allies in Recovery but want to join us TODAY to get trained on how to reduce the chaos of addiction in your family, click here.
A membership at AlliesinRecovery.net brings you into contact with experts in CRAFT – the proven, most successful method for getting your loved one into recovery. Our unique, award-winning learning platform teaches you CRAFT, so you can play an important role in the recovery journey. With Allies, you'll get information critical to understanding your loved one's alcohol/drug addiction; you'll learn the strategies and skills you need to engage your loved one onto the path to recovery; and you'll get guidance on how to identify and cope with the flood of emotions you are feeling – because when you are coping better, you can better help your loved one.
Together we will move your loved one towards recovery.