You're Invited to a Special Screening of the Film "If Only" in Reading, MA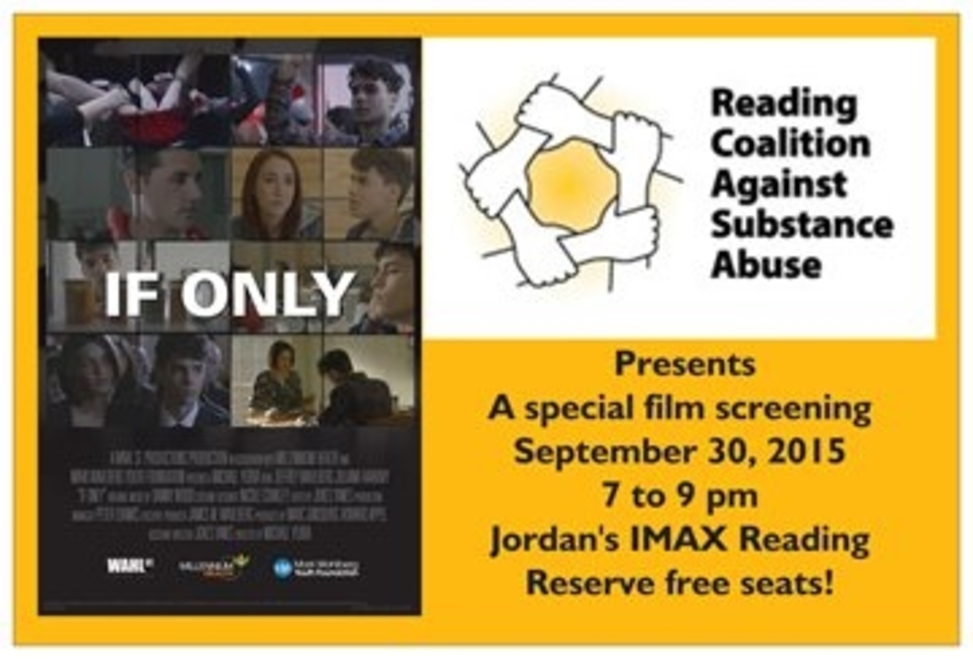 You are invited to a special screening of the short film "If Only" – the story of two teenage boys who experiment with, and become addicted to opiods.
this event is finished, but if you are interested, you can watch "if only" by following this link…
The event is *free of charge* but reservations are required. Click here to reserve your spot.
Date: Wednesday, September 30, 2015 Time: 7 — 9 PM Location: Jordan IMAX, READING, MA Rated: Recommended for ages 12 and over
The film is a co-production by the Mark Wahlberg Youth Foundation, Millennium Health, and WAHL St. production. Co-written by James Wahlberg and Michael Yebba and filmed in Tewksbury, including local
residents, with production assistance from Marc Ginsberg of the Tewksbury Country Club. Sponsored by the Reading Coalition Against Substance Abuse, Mystic Valley Opioid Abuse
Prevention Collaborative of Massachusetts, and their supporters. The intent of the creators is to educate young people on how quickly drug use can spiral into
addiction. Appropriate for ages 12 and up. Join us, guest speakers, and a Q+A panel of professionals during National Recovery Month, September 30th from 7 — 9 PM, at Jordan's Furniture IMAX theater, (Walkers Brooke Drive, Reading MA). Because of seating capacity, reservations are necessary at http://bit.ly/rcasa or call RCASA at
781-942-6756. Click here to sign up and reserve a spot!