We Don't Know When My Brother is High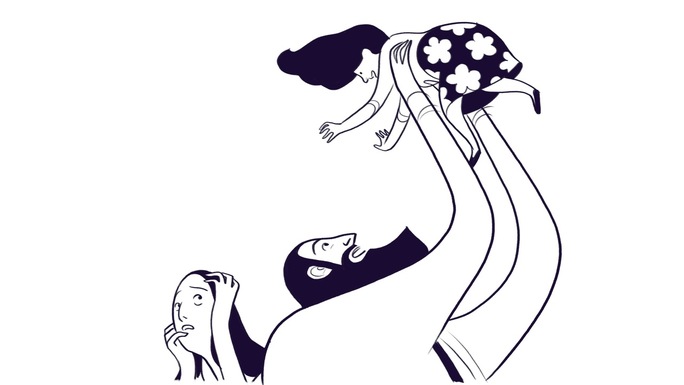 Member worriedinwa just wrote in, still reeling after having discovered her brother's opioid addiction…
"Having just learned a couple weeks ago that my brother has been taking opioids for years, it is hard to know what barely normal is — it's hard to know what normal would even be now. We thought he was just "like that," that his behavior was his personality and he had a problem with ADD or even manic depression, but now we realize he may have often been high and/or his behavior was tied to his addiction. I think maybe we recognize when he is really high on heroin or something else, but when he is home doing normal things like playing with his child or helping her brush her teeth or watching tv with us, it's easy to assume he's not using, but if he is physically dependent, then he must be using something. In addition, at home, he often slips outside for ten or twenty minutes then comes back. I can't necessarily tell a difference in his behavior afterward, but now suspect those may be trips outside to use something. It doesn't feel right to step back when he is present and helping with household chores or childcare and at those moments he seems reasonable and attentive to others, but what if those are the times he is using? It's really confusing and so hard for my family to trust our judgment when we were so oblivious to things for so long."

What a shock to learn your brother has been using opioids all this time and you did not know. Opioid use can be like this. So yes, a person can look almost passed out, eyes glazed and half shut, scratching their face; perhaps unusually happy and, conversely, energized. These are all signs of opioid use. See our signs and symptoms in the Resource Supplement for a complete description.
But a lot of the time, a person using opioids meters out the dose and takes just enough to get themselves back to normal. They take enough to pull themselves out of withdrawal to a point they can function. I think that's what you are describing when your brother is playing with his children and doing other normal things. Sometimes, an individual will take an opiate substitute like Burprenorphine (brand names: suboxone or subutex) purchased on the street to help with maintenance. This has the effect of making them look normal. You wouldn't be able to tell the difference between high or not in these moments.
I am so glad you came to this site. Our Learning Modules will show you the way forward. You are right at the start of things. You should know that it will take some effort on your part and the part of your other family members, if they are willing, to learn some key principles about being in a relationship with your brother. There is material to learn and work to be done by you and your family to create an environment around your brother that is the most conducive to recovery. I hope everyone can watch the videos, and do the exercises, and cross check with each other.
For now, let's just talk about what you are seeing. The fundamental principle that the world divides in two applies here. Where do you draw the line between being familial, warm, inviting, and rewarding with your brother? On the other side of the line, when he is using, how do you quietly withdraw yourselves and any rewards, while allowing natural consequences.
Here's my suggestion based on what you know so far. If he looks and acts normal, accept that he is not high (he may be maintaining with opioids but let this pass for now). Step in with the warm loving family. If he looks at all high, step away. This is where the line is drawn. For guidance with these principles, see Learning Module 5 and Learning Module 6.
The question that remains is what is he doing when he goes outside for 15-20 minutes. Does he use other drugs like pot? If not, then I suspect he may be smoking the opioid. It's the only thing I can think of that would involve needing to leave the room to do opioids other than injecting the drug, which is typically done in a corner of the house alone, like the bathroom or bedroom.
On which side of the line do you put this mysterious behavior: using or not using? I would think using, but it is for and your family to decide. In Learning Module 3 we have a series of exercises that will help you fine tune your observation skills—build a practiced eye, as we call it.
Without being too obvious, take a more careful look at your brother when he comes in from outside. Is there anything different? You've only known about the opioids for a short time. With the signs and symptoms checklist, and your exercises to help you build that informed scrutiny, do you see any differences?
Don't be too hard on yourselves if you make mistakes. You'll have opportunities to try again. You are just learning how to shift your behavior in response to what you see in your brother. Your judgement will improve. You won't be right 100% of the time, it's not possible. Just get the general outlines of this principle and build the awareness.
There are 8 Learning Modules that will take you a couple hours to view and answer the associated questions. Can you commit to have the family members spend these couple hours on the site? Can you compare answers? It can be an effort to find motivation for looking at your own relationship with your brother. You will start to see things you hadn't noticed before, and to respond in ways that can influence your brother. After a couple weeks of this, you will understand what is going on and be clearer about what is needed. You will feel better about yourselves too, as you gain a better stance, depersonalize what is happening, and respond and communicate in ways that are more effective.
Thank you for coming onto the site and for writing in. Let us know what you learn. It helps all of us.