She's Headed Home, Now What?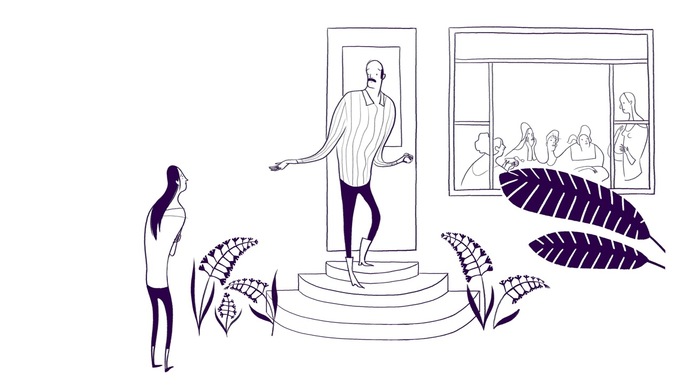 AiR member help4t posted a comment on the Treatment Expert Blog…
"My daughter will be coming home on the 22nd of December after 35 days in detox/inpatient. She is deep in debt due to court issues and DUI. I am not sure how to handle her when she comes home. I am hoping that she can find a sober living home here in MA (she is in FL now but needs to come back to MA for probation). I do not want to give her cash as I fear she will buy alcohol or drugs. She has a job at a very nice restaurant waiting for her, but I am unsure if this is the best environment and that the cash earned nightly is not the best. Please help here. I love the approach of this site by rewarding good behavior. So different from the tough love I have been told to give. My daughter has never been violent or stolen from us."
Ambivalence is Understandable
From the sound of it, you're ambivalent about your daughter coming home to live with you when she leaves inpatient. Which is quite understandable. She will have a little over a month sobriety, which is a huge success but only a short time to have developed the skills needed to stay sober. So, she will be fragile.
After Inpatient Treatment, Consider a Recovery Home
The inpatient treatment place in Florida should be working on an aftercare plan and they should be involving you in those discussions.
A recovery home is a good next step when leaving inpatient. Spending six months to a year in a structured environment can help establish the daily life skills needed to maintain long-term recovery. It also relieves you from trying to create that structure in your home.
Recovery homes range in price from under $1000 to over $20,000 a month. They often have wait lists. AiR's treatment provider directory provides a description of recovery homes and has a list of questions to help evaluate them.
The Massachusetts Helpline can provide you with up-to-date information on those that are less costly. 1-800-327-5050 (M – F 8 AM – 10 PM; SAT/SUN 9 AM – 5 PM).
Right Turn, McLean Hospital, and Gosnold's Miller House are three organizations among others in Massachusetts that have private pay extended stay homes.
You May Have to Do the Legwork
Now here's the rub. If the inpatient place isn't helping with this, you are going to have to find a home or two and present this to your daughter. You can't expect her to do the legwork of finding the place. Finding a bed in a home is complicated and tedious. It takes time so start looking today and try hard not to give up.
You will need to work out how to pay for it, at least for that first month, until your daughter can pay her own way with her wages. If it is higher priced, you must be willing to pay a substantial piece of it. Insurance does not cover housing, which is what they consider recovery homes to be. Ask the home about services that are covered by insurance, such as group therapy or urine testing.
Ideally, your daughter flies home and goes directly to her new house. That will be hard to make work, but that's the goal. If this can't be orchestrated, then she spends as few as possible days with you, and then she's off to her house.
Again, you should be getting help from the treatment center in Florida to convince your daughter to live in a recovery home. A recovery home can be a hard sell. Module 8 will help you prepare yourselves for a talk with her.
Cash? Provide the Minimum
Now, about giving your daughter cash and her job in the restaurant. You'll want to limit the cash you give her. We've written about that in another post (are we enabling…), but she will need some cash to get started. Provide the minimum and give it to her weekly, when you see her. Money is only offered for a short time to help her transition to self-sufficiency through work.
She Needs to Find Her Own Balance
Restaurants sometimes have a drinking and drugging culture among staff and owners. As you point out, most of what is earned is in cash. Let the house and hopefully a therapist work through this with her. Your daughter needs to make her own decisions and her own mistakes. Guidance from professionals on this will be better received than if you try to jump in.
Probation can be your friend. They will drug test your daughter and provide an incentive for making good decisions.
Take this Opportunity to Give Her a Big Pat on the Back
Your daughter is coming home to a new life. I'm sure you're nervous, but let her know she has taken a huge first step and that you are proud of her. I feel hopeful for her!